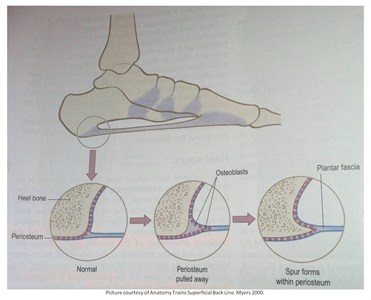 Overview
A heel spur (or osteophyte) is a small bony growth or collection of bony growths on the back or underside of the heel. They may or may not cause pain, and patients often confuse heel spurs with a related condition known as plantar fasciitis, inflammation of the band of tissue that stretches from the ball of the foot to the heel, forming the arch. Many people have bone spurs without ever knowing it, and about 70 percent of patients with plantar fasciitis who do have discomfort will also be found to have a heel spur when observed via X-ray. It is likely that a bone spur forms as the body tries to repair itself from repeated injury by laying down extra bone at the site of trauma. Plantar fasciitis is typically another result of such trauma. Heel spurs are most often seen in middle-aged men and women, but can be found in all age groups.
Causes
Heel spurs are bony outgrowths positioned where the plantar fascia tissue attaches to the heel bone (the calcaneus). Heel spurs seldom cause pain. It is the inflamed tissue surrounding the spur that causes the pain. The Latin meaning of Plantar Fasciitis is, ?Inflammation of Plantar Fascia.? The plantar fascia is a long, thick and very tough band of tissue beneath your foot that provides arch support. It also connects your toes to your heel bone. Each time you take a step, the arch slightly flattens to absorb impact. This band of tissue is normally quite strong and flexible but unfortunately, circumstances such as undue stress, being overweight, getting older or having irregularities in your foot dynamics can lead to unnatural stretching and micro-tearing of the plantar fascia. This causes pain and swelling at the location where the plantar fascia attaches to the heel bone. As the fascia continually pulls at the heel bone, the constant irritation eventually creates a bony growth on the heel. This is called a heel spur.
Symptoms
The Heel Spur itself is not thought to be painful. Patients who experience pain with Plantar Fasciitis are suffering from inflammation and irritation of the plantar fascia. This the primary cause of pain and not the Heel Spur. Heel Spurs form in some patients who have plantar fasciitis, and tend to occur in patients who have had the problem for a prolonged period of time. While about 70 % of patients with plantar fasciitis have a heel spur, X-rays also show about 50 % of patients with no symptoms of plantar fasciitis also have a heel spur.
Diagnosis
A thorough history and physical exam is always necessary for the proper diagnosis of heel spurs and other foot conditions. X rays of the heel area are helpful, as excess bone production will be visible.
Non Surgical Treatment
Heel spurs are considered a self-limited condition, which means that by making small alterations in your lifestyle and regular routines you can often control the condition. The goal is to relieve pain, reduce friction and transfer pressure from your sensitive foot areas. By eliminating the cause of the heel spur and plantar fasciitis (i.e. better shoes, orthotics to fix your gait, losing weight) will help reduce the pressure put on your fascia and heel and can reduce the inflammation caused by your heel spur. Failure to see improvements after conservative treatments may make surgery your only option.
Surgical Treatment
Have surgery if no other treatments work. Before performing surgery, doctors usually give home treatments and improved footwear about a year to work. When nothing else eases the pain, here's what you need to know about surgical options. Instep plantar fasciotomy. Doctors remove part of the plantar fascia to ease pressure on the nerves in your foot. Endoscopy. This surgery performs the same function as an instep plantar fasciotomy but uses smaller incisions so that you'll heal faster. However, endoscopy has a higher rate of nerve damage, so consider this before you opt for this option. Be prepared to wear a below-the-knee walking cast to ease the pain of surgery and to speed the healing process. These casts, or "boots," usually work better than crutches to speed up your recovery time.
Prevention
You can prevent heel spurs by wearing well-fitting shoes with shock-absorbent soles, rigid shanks, and supportive heel counters; choosing appropriate shoes for each physical activity; warming up and doing stretching exercises before each activity; and pacing yourself during the activities. Avoid wearing shoes with excessive wear on the heels and soles. If you are overweight, losing weight may also help prevent heel spurs.